Update for Summer 2022
Our Summer camp program will be open to current DP students and enrolled students.
 All elligible students received an email for sign-ups. If you have any questions, please feel free to contact us at derrypreschoolsummercamp@gmail.com.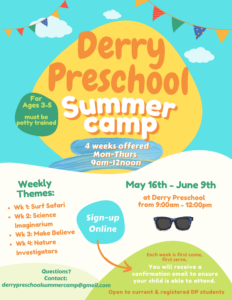 Open House February 6, 2022
We are excited to welcome you inside to meet our Derry Preschool family & tour our classrooms!
 We invite you to come and visit Derry Preschool! Meet our Derry Preschool Staff Family and view our classrooms on February 6, 2022, from 1-3 p.
Registration will be online again this year. Link will go live at 4pm on February 6. 
*We will be requiring all visitors to wear a mask to keep everyone safe & healthy
Click Here to View Last Year's Virtual Open House
Have Questions? Contact Us Today!