Extended Day
Each and every child is a unique individual with his/her own talents and abilities. Children are born learners, with a strong sense of curiosity, and their own brand of imagination and creativity. Derry Preschool offers a variety of enrichment programs to further enhance your child's emotional and cognitive growth while preparing them for the lifelong adventure of learning.
KickStart
This unique program was developed by Derry Preschool teachers who are certified in Elementary Education and have experience in Special Education.  KickStart offers individually age-based instruction on pre-reading/prewriting skills including phonemic awareness, letter knowledge, and other early literacy components.
This program which is offered Monday-Thursday from 12:45 to 3:15 pm is a center-oriented creative curriculum.  KickStart is a great option for parents of children who qualify for the 3yo, 4yo, or 5yo classes, who need a little extra time in the afternoons but can still have their child in a program designed for fun and learning!
For more detailed information on the Kickstart Program, please e-mail us at derrypreschool@gmail.com.
KickStart will be offered Monday-Thursday from 12:45pm-3:15pm.
Check out the images below to see how to sign up and pay for our KickStart program.
Creative Enrichment
We offer a variety of enrichment activities for children ages 3 to 5 throughout the year including Zumba Kids, Mini Doodlers Art Class, KIMA and Bitty Ballet. Information about these activities will be advertised during the school year!
Lunch Bunch ~ Daily
Every day from 11:30 to 12:45 pm, Derry Preschool offers Lunch Bunch for children who qualify for the 3yo, 4yo, and 5yo classes. Bring a nut-free packed lunch and your child will be able to enjoy lunchtime with their Derry Preschool friends and staff. Signup is required and costs $10 or purchase a discounted punch card!
Cash/check payment should be placed in child's lunch box. Check out the images below to see how to sign up and pay for our lunch bunch program.
Early Bird Drop Off ~ Daily
Do you need to drop off a few minutes early? Starting at 8:15 am, you may drop your child off in the creative enrichment room (located on the lower level) to be watched and then escorted to class at 9 am. All ages are welcome for only $5 and there is no need to sign up!
Late Pick-Up ~ Daily
This option allows you to have a little more time at the end of class. Extend your child's pick-up time to 12 noon. Your child will be escorted by their teacher to the Late Birds program. Children of all ages must be signed up at a cost of only $5!
Payment
We accept payment by cash, check made payable to Derry Preschool and discounted punch card.
Discounted Punch Cards
Punch cards are offered for some of our enrichment programs and allow you to purchase multiple sessions at once, with a discount! Punch cards expire at the end of each school year.
We have conveniently placed a payment box for purchasing punch cards in the hallway outside the Yellow classroom.
Kickstart: $90 for 5 sessions OR $180 for 10 sessions
Lunch Bunch: $90 for 10 sessions
*Punch cards expire at the end of each school year.                
Additional Questions?
Please see our FAQS
Would you like to sign up your child for one or more of our enrichment programs? Sign-up Sheets are located at our Parent's Place at Derry Preschool! If you have any questions or if you need us to help sign up your child, please e-mail us at  derrypreschool@gmail.com.
Where to sign up for our Daily Extended Day programs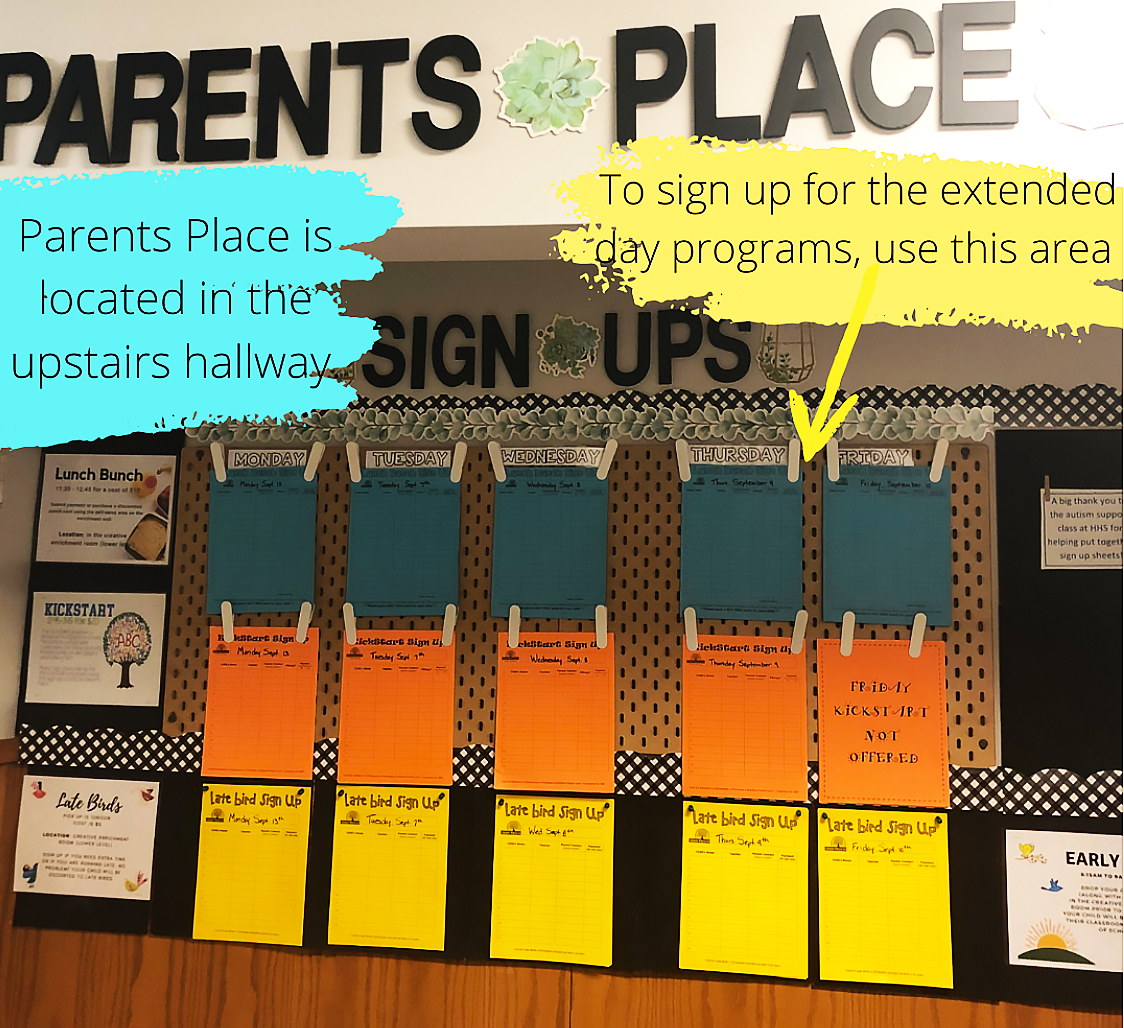 Check out our convenient self sufficient payment area
Open House February 6, 2022
We are excited to welcome you inside to meet our Derry Preschool family & tour our classrooms!
 We invite you to come and visit Derry Preschool! Meet our Derry Preschool Staff Family and view our classrooms on February 6, 2022, from 1-3 p.
Registration will be online again this year. Link will go live at 4pm on February 6. 
*We will be requiring all visitors to wear a mask to keep everyone safe & healthy
Click Here to View Last Year's Virtual Open House
Have Questions? Contact Us Today!